This is a Sponsored post written by me on behalf of
Vipre
. All opinions are 100% mine.
When you work on your computer like I do, you have to be sure that your computer is working well all the time. Otherwise, you'll lose time solving problems with your computer instead of doing your work, wasting your time as well as money.
That's why it's frugal to invest in a good Internet security program, one that will keep your computer safe and ensure that your computer is able to work at its best!
I recently had the opportunity to try
VIPRE Internet Security
. The software includes antivirus software as well as security features to auto-fix out-of-date software, a firewall to protect against inbound and outbound Internet threats, an anti-spam filter to protect against spam and phishing emails,and a bad website blocker to block access to malicious web pages.
It was really easy to install and use. I went to the
VIPRE Internet Security
website and clicked "Download VIPRE now" to get the 30-day free trial. Once the program was downloaded, I started it: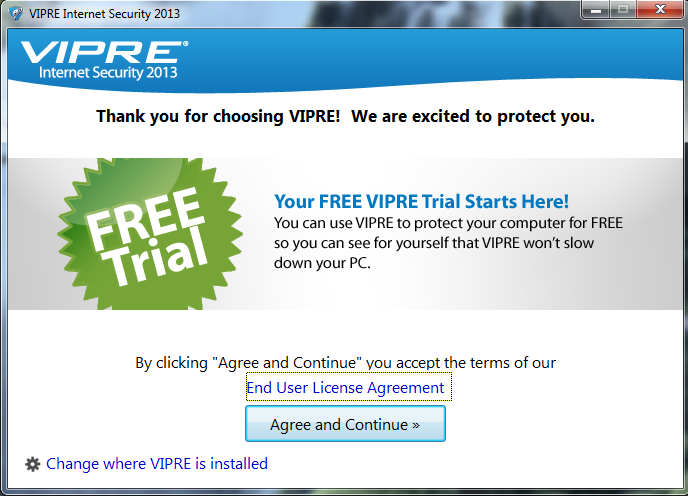 I then clicked Agree and the software started to download:
While I was downloading, I was still able to get other work done - it wasn't a resource hog. After I completed the download process and restarted my computer, VIPRE was ready to protect my computer!
When I ran the first scan, I noticed that I was able to continue doing work while it was running. With a previous antivirus program, the system would slow down while it ran. I had to schedule the scans for a time when I wasn't using the computer for anything important. Now it can run while I am doing my work, no problem!
When the scan finished, I was shocked that the software found some risks to my system! After all, I was running another antivirus program before I installed VIPRE (I had to uninstall that program first). So despite taking steps to protect my computer previously, it clearly wasn't totally protected. VIPRE is doing a much better job at protecting my system than my previous software was.
So if you use your computer for important work, you really need to check out VIPRE. What threats could your current antivirus software be missing? You need to find out! Visit vipreantivirus.com for more information!