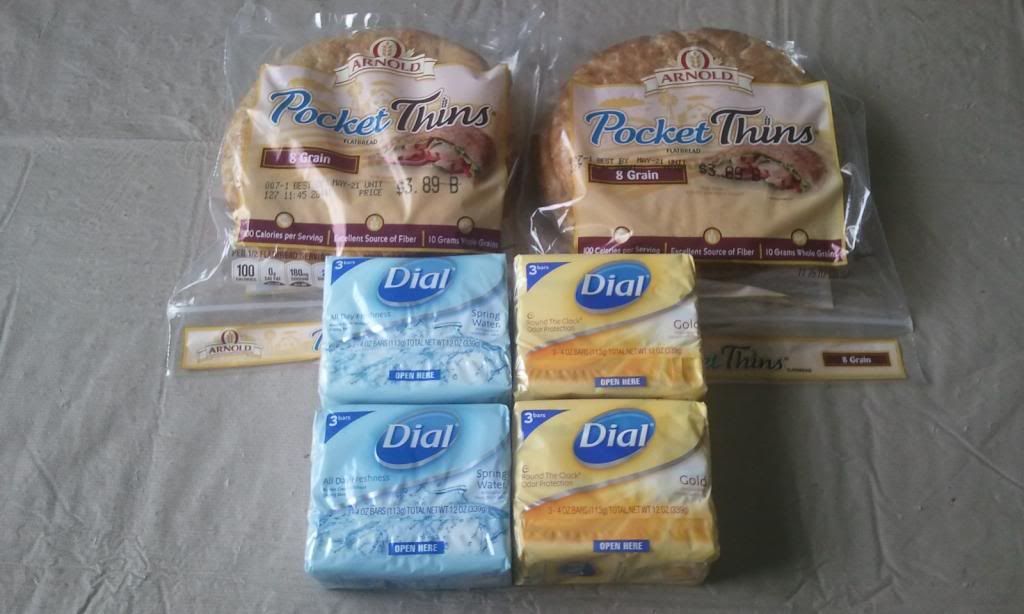 On Wednesday, before the sales week ended, I headed back to Publix to pick up two more deals. My kids tried the Arnold flatbread I bought last week, and they loved it! So I printed out two more
Save $1.00 on any one (1) Arnold®, Brownberry® or Oroweat® Pocket Thins® Flatbread
coupons, and I also clipped four coupons for Dial soap. Here are the deals I got:
2 Arnold flatbread @ BOGO $3.89
- 2
Save $1.00 on any one (1) Arnold®, Brownberry® or Oroweat® Pocket Thins® Flatbread
= $1.89 for two, or 95¢ each
4 Dial soap 3-packs @ BOGO $2.29 = $4.58
- 4 $0.35/1 Dial Liquid Hand Soap, Foaming Hand Soap or Bar Soap, exp. 5/25/13 (RP 04/28/13)
= $3.18 for four, or 90¢ each
Tax: 28¢
Total out of pocket: $5.35
Saved: $9.58
So when I gave the 35¢ off coupons for the Dial bar soap, the cashier said to me, "There was a bigger coupon for the soap, didn't you get it?" She reached into the coupon pouch where the cashiers place the redeemed coupons, and she showed me a $2/2 Dial, Dial For Men or Tone Body Wash, exp. 6/8/13 (RP 05/12/13) coupon that another customer had used for the bar soap.
I said, "That coupon is for Dial body wash, not Dial bar soap."
She said, "The register took the coupon, and that's all that matters."
I said, "It's one thing if it said "Any Dial product." But that clearly is meant for the body wash, so it's not right to use that coupon.
And she said, "Well, what matters is if the register takes it or not."
So I dropped it. Frankly, usually cashiers are too stringent on coupon use - not accepting coupons based on the picture instead of the wording, for instance - so it was nice to have a lenient cashier. On the other hand, it goes against everything I've learned about proper coupon usage.
What do you think? Leave a comment below!
(This post may contain affiliate links. Please see my disclosure policy for more information.)