This is a Sponsored post written by me on behalf of
Carton Smart
. All opinions are 100% mine.
It's time for all the great deals on Thanksgiving food at the grocery store. As you purchase your ingredients for your delicious Thanksgiving meal, have you thought about the packaging that your food comes in, and how the packaging affects the environment?
Sure, food can come in boxes and cans that can be recycled. But what about the damage done in making these packages in the first place?
Become Carton Smart
and consider using products packed in Tetra Pak® cartons this holiday season! Here's why TetraPak packaging is so much better than conventional packaging:
Tetra Pak® cartons are made of 70% paper, a renewable resource, from selectively harvested, re-grown trees that are FSC-certified (Forest Stewardship Council)
Cartons use 1/3 of the packaging compared to cans.
Cartons are space saving, easy to store and open. Keep your pantry neat and toss your can openers, stackable and space saving.
The unique packaging process preserves the flavor and nutrients of food without the use of preservatives. Product quality is exactly the way it was intended to be.
Recycleable and in fact result in 60% less landfill waste than cans
Cartons are re-closable so you can use what you need and save the rest for later.
Check out this infographic to learn even more!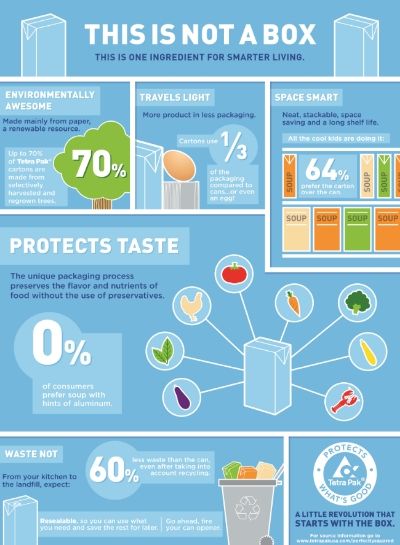 I recently had the chance to try out three different Pacific Foods products packaged in TetraPak packaging: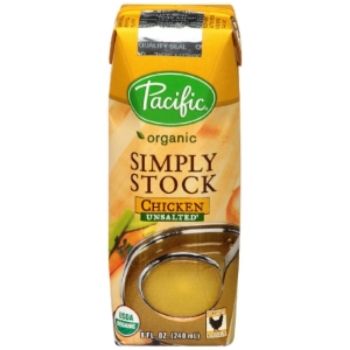 Pacific Foods Chicken Stock
Pacific Foods Pumpkin Puree
Pacific Foods Cranberry Sauce
I love that these products take up so little room in my crowded pantry and refrigerator. And I love that they can be stored directly in their packaging once open, unlike boxes and cans. That means a lot less of looking at plastic containers, trying to figure out what's in there! And it means a lot less wasting of products as well. And I love that the containers can easily be recycled!
I think that the pumpkin puree would work great in my recipe for Pumpkin Whole Wheat Rolls - I can't wait to give it a try this Thanksgiving!
PUMPKIN WHOLE WHEAT BREAD MACHINE ROLLS
3/4 cup warm water
4 tbsp butter, melted
1/2 cup Pacific Foods pumpkin puree in TetraPak packaging
1/3 cup honey
1 tsp salt
1-1/2 cup whole wheat flour
1-1/2 cup all-purpose flour
4 tsp vital wheat gluten
1 tbsp yeast
Add the ingredients to the bread machine in the order shown or in the order described by your bread machine's manual. Set on the dough cycle.
When the dough cycle finishes, remove the dough to a floured surface. Knead the dough for 1 minute. Separate the dough into 16 pieces and roll each piece into a ball. Place the dough balls in a 4x4 pattern in a greased 8x8 pan. Cover the pan with a dishtowel and allow the dough to rise for 1 hour in a warm area.
Preheat the oven to 350 degrees. Bake for 15 minutes, then cover the rolls with aluminum foil to prevent overbrowning and bake for another 5-10 minutes. Allow to cool, then remove rolls and break them apart.
Makes 16 rolls.
But these aren't the only products available in TetraPak packaging! There are lots of soups, meals and sides, purees and sauces, non-dairy beverages as well! Take a look around your grocery store - there are bound to be lots of carton-packed food items there.
How do you plan to be #CartonSmart this holiday season? Do you plan to use ingredients that come in cartons, or do you plan to entertain with great-tasting food that leaves little waste? Leave a comment below!
Want to learn more about TetraPak packaging?
Follow #CartonSmart on Pinterest
or
Tweet @CartonSmart
!