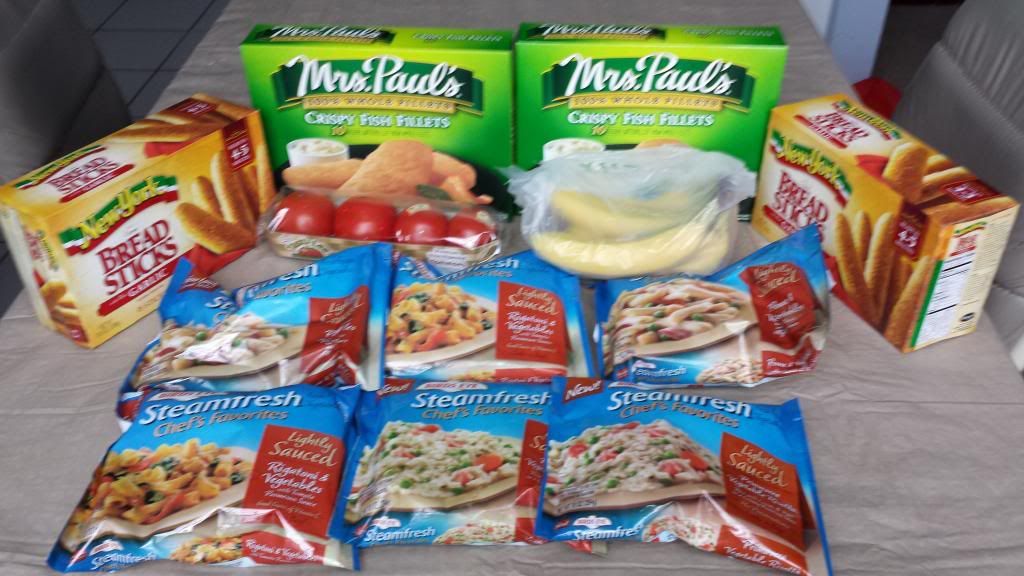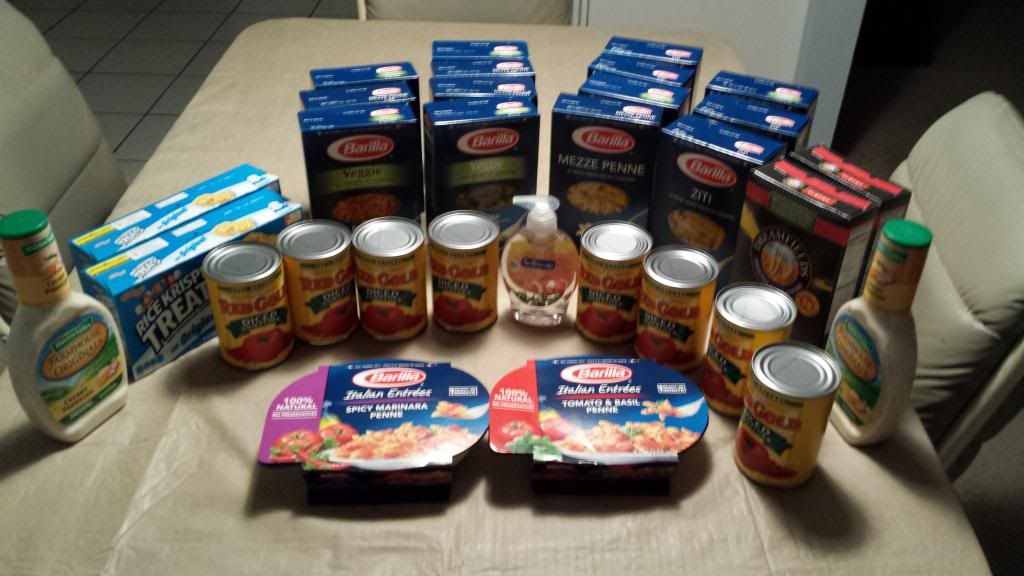 Enter for two chances to win a Publix $25 gift card here and here!
I haven't had a lot of time to coupon and shop lately. This week, I barely had time to run to the store, pick out my items, and run home. I took one picture of the perishables and stuffed the frozen food in the freezer, then left the rest and went on to my next appointment. I didn't get to photograph and put away the rest of the food until the next day!
Here are some tips when you only have a limited time to plan or to shop:
Limit yourself to one store. I love doing deals at the drug stores, but with a limited amount of time, I spend it on Publix shopping. Pick a store that is laid out well and doesn't require mammoth walks from one side of the store to the other.
Find one website that covers your store the best and use its deals, even if there might be other deals on other sites that you might miss.
Make sure you have plenty of paper and ink/toner so that you won't have to scramble for more while printing coupons.
Try to plan your trip when you have no other distractions so that you can concentrate.
Plan out your trip so that your walking is kept to a minimum - no going back and forth from one side of the store to another.
If you're purchasing a product you've never bought before and you don't know where it might be located, ask at the front desk rather than going up and down the aisles looking for it.
Have all your coupons organized so that if you choose not to do a deal, you can remove those coupons quickly.
If you're truly out of time, don't coupon. Instead, shop at the store with the lowest regular prices - for me, this is ALDI or Walmart. Start couponing again when the demands on your time aren't as great.
Do you have any other tips for couponing when you have no time?
Here's what I got on my rushed trip to Publix:
2 New York breadsticks $2.95, 50% off = $2.95
- 2
$0.50/1 New York Brand Frozen Bread Product printable
= $1.95 for two, or 98¢ each
6 Birds Eye Steamfresh @ 3/$5.00 = $10.00
-
6 $1.00/1 Birds Eye Steamfresh Chef's Favorites printable
= $4.00 for six, or 67¢ each
2 Dreamfield pasta @ 3/$5.00 = $3.34
- 2
$1.00/1 Dreamfield pasta printable
= $1.34 for two, or 67¢ each
6 Barilla veggie pasta @ BOGO $1.56 = $4.68
- 3
$1/2 Barilla Pasta printable
- 3
$0.55/2 Barilla veggie pasta, 12 oz (Publix Fall Savings flyer)
= 3¢ for 6, or 1/2¢ each
8 Barilla pasta (non-veggie) @ BOGO $1.56 = $6.24
- 3
$1/2 Barilla Pasta printable
- $1/2 Barilla Pasta Publix digital coupon (manufacturer's coupon)
= $2.24 for eight, or 28¢ each
2 Kellogg's Rice Krispies Treats @ BOGO $3.09
- $1/2 Kellogg's Rice Krispies Treats Crispy Marshmallow Squares, exp. 9/29/13 (RP 08/04/13 #2)
= $2.09 for two, or $1.05 each
2 Hidden Valley Farmhouse Originals @ BOGO $3.77
- 2 $1/1 Hidden Valley Farmhouse Originals Salad Dressing, exp. 10/28/13 (SS 07/28/13)
= $1.77 for two, or 89¢ each
2.17 lb bananas @ 69¢/lb = $1.50
-
$1.50 off Produce wyb Hidden Valley Farmhouse Dressing printable (zip 99218)
= FREE
1 pack Tasti-Lee tomatoes @ $1.99
-
$1.50 off Produce wyb Hidden Valley Farmhouse Dressing printable (zip 99218)
= 49¢
8 Red Gold canned tomatoes @ $1.00 = $8.00
-
$0.50/1 Red Gold Tomatoes & Green Chilies printable
-
$1/3 Red Gold, Red Pack or Tuttorosso Canned Tomatoes printable
-
$0.75/2 Red Gold Tomatoes printable
- 2 $1/4 Red Gold Publix coupon (Flavor Excursion booklet)
= $3.75 for eight, or 47¢ each
(Note: the printable coupons' fine print limit you to one coupon per customer, which means you cannot use more than one coupon in one transaction.)
1 Softsoap liquid hand soap @ $1.00
- $0.35/1 Softsoap Product, exp. 10/12/13 (SS 09/22/13)
= 65¢
2 Barilla microwave meals @ 2/$2.49 = $2.49
- 2
$1/1 Barilla Pasta Entree printable
- 2
$0.75/1 Barilla 1-Minute Microwaveable Italian Entree Target printable
= 1¢ moneymaker
- $5 off $30 Winn-Dixie coupon (Enjoy the City)
Tax: 6¢
Total spent: $16.35
Total saved compared to Publix full prices: $78.82
(This post may contain affiliate links. Please see my disclosure policy for more information.)