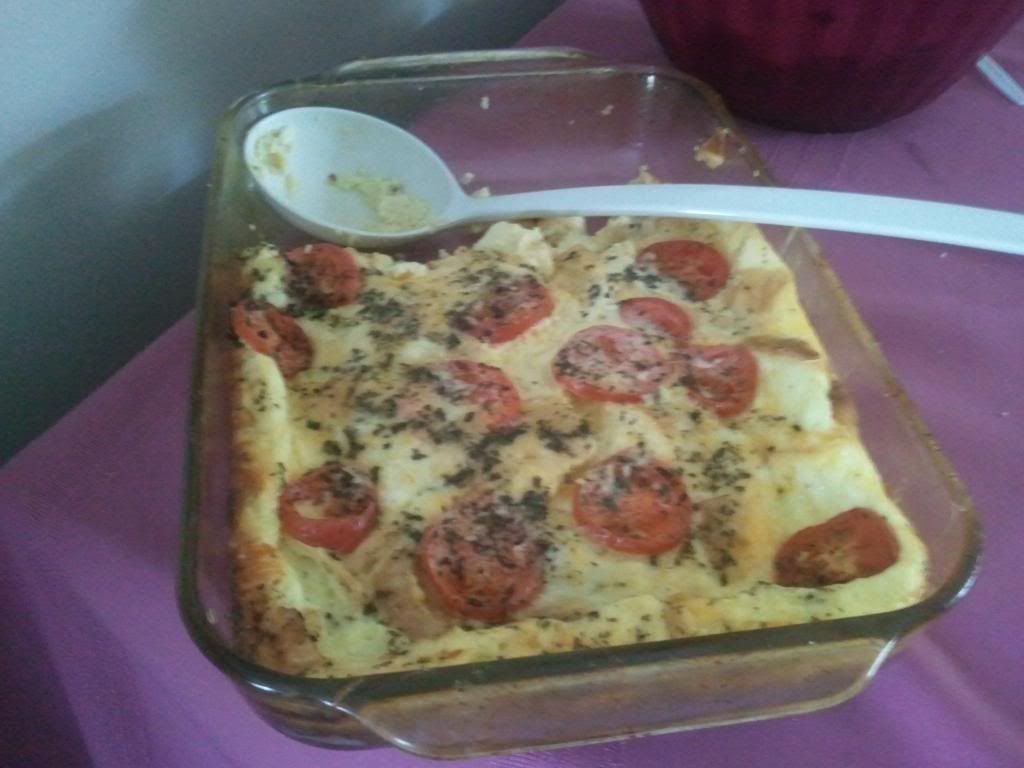 Welcome to Frugal Food Thursday! If you have a great frugal recipe, please link up below!
These recipes are also listed at these wonderful linkup parties - thank you to all the hosts for allowing me to link up!
This past weekend was my daughter's 8th birthday party. When I asked her what kind of party she wanted, she first asked for a sleepover with a dozen of her friends. When I said that that wasn't going to happen, she asked, "Can we all have breakfast together then?"
A breakfast birthday party it was! She came up with the theme, Around the World, and decided that each breakfast dish would be from a different country.
We did some research and came up with a great menu. She helped cook almost everything! We bought English muffins for England and croissants for France. We made doughnuts filled with dulce de leche for Argentina and made hot chocolate laced with cinnamon and orange for Spain. For the US, we purchased Froot Loops, a rare treat for her.
And for Italy, we found this easy recipe for Tomato and Basil Strata, an egg and bread casserole. She prepared the casserole dish the night before almost by herself. The next morning, I popped it in the oven an hour before the party, and when it came out, it was nice and puffy. And yummy!
Here's the recipe:
TOMATO AND BASIL STRATA
(based on a recipe from
FamilyOven.com
)
1 loaf Italian bread, cubed
6 tbsp butter, melted
2 cups Swiss cheese, shredded
1-1/4 cups Colby Jack cheese, shredded
12 eggs
1 cup powdered milk
3 cups water
freshly ground black pepper and salt to taste
3 Roma tomatoes, sliced
3 tbsp basil
Grease 9x12 casserole dish. Place the cubed bread in one layer in the casserole dish. Sprinkle bread with the melted butter, the Swiss cheese, and 1/2 cup Colby Jack cheese.
In a large bowl, beat the eggs until foamy. Add the powdered milk, water, black pepper, and salt. Mix well.
Pour the egg mixture into the casserole dish over the cubed bread and cheese. Sprinkle the remaining 3/4 cup cheese on top. Place the tomato slices on top of the cheese and sprinkle the basil on top of the casserole.
Cover with aluminum foil and place in the refrigerator overnight.
In the morning, remove the casserole from the refrigerator half an hour before baking. Preheat oven to 350 degrees. Bake the casserole, uncovered, for 1 hour. Serve soon after removing the casserole from the oven as the puffiness will go down over time.
Serves lots!
There are lots more
easy and cheap recipes
posted here at
Frugal Follies
.
Click here for the list
!
Got a great frugal recipe? Link below to your actual post, not your main page. Please only link up recipes and other food-related posts. I'd appreciate it if you would link back to
Frugal Food Thursday
as well! If you have a linkup party that you'd like me to know about, please leave a comment below.
Want to find more places to link up your recipe or to find more great recipes? Please go to my
Linkup Parties
list and scroll down to Food Linkups. There are lots of great recipes on each blog and I'm sure you'll find some new favorites!
(This post may contain affiliate links. Please see my disclosure policy for more information.)