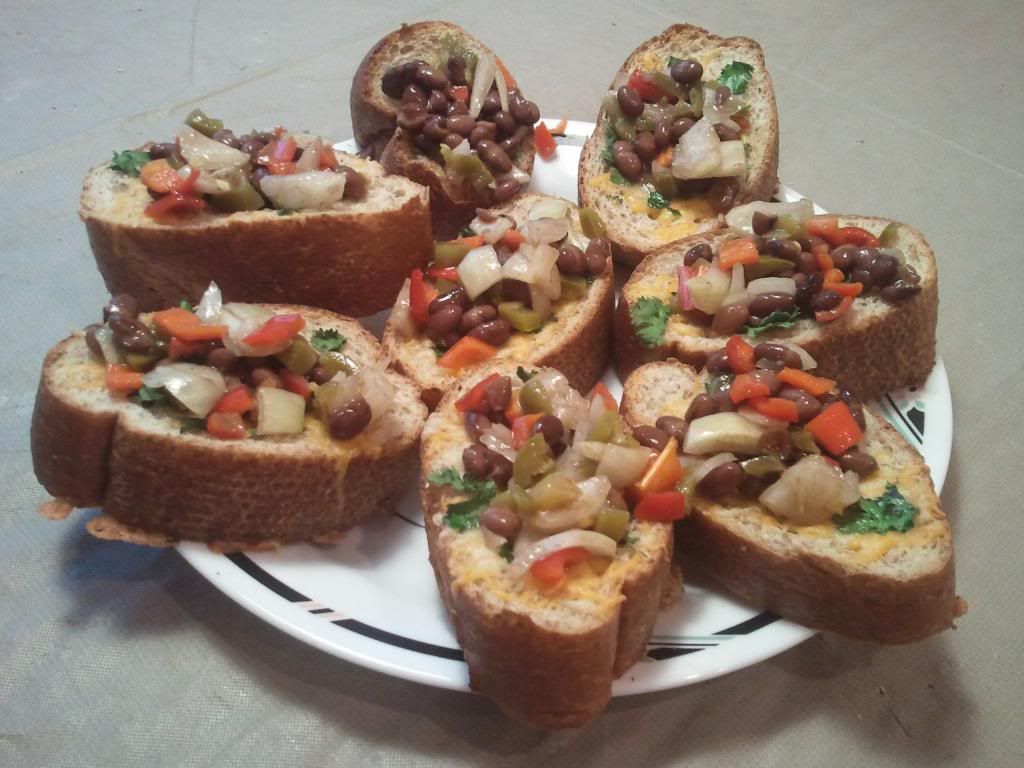 Welcome to Frugal Food Thursday! If you have a great frugal recipe, please link up below!
These recipes are also listed at these wonderful linkup parties - thank you to all the hosts for allowing me to link up!
Thanks to Glory Foods for providing the beans for this recipe!
I love to make recipes with beans - they're so inexpensive, yet so versatile! I'm always looking for new ideas. So when the folks at
Glory Foods
asked me to try their new bean recipe, I jumped at the chance!
I tried their recipe for Southwestern Bruschetta, which was created exclusively for Glory Foods by Executive Chef David E. Francis. Instead of having tomatoes and basil on Italian bread, it had black beans, peppers, and onions.
I made a few changes to the recipe. I left out the chicken meat that's mixed with the beans, and I didn't add the avocado mixture, as I'm the only avocado lover in the house.
They were a little messy to eat, but still delicious! Next time I think I'd put the cheese on top and then broil the bruschetta slices, which might keep the toppings on a little better.
Here's the recipe:
SOUTHWESTERN BRUSCHETTA
1 French bread, cut in 1/2 thick slices
1/2 cup shredded pepperjack cheese
1/3 cup chopped fresh cilantro leaves
2-ounces finely chopped cooked grilled chicken meat
1/2 cup drained, rinsed, Glory Foods Black Beans
2 tbsp finely chopped red onions
2 tbsp finely chopped red peppers
1 tsp minced seeded jalapeño pepper
1 tsp ground cumin
2 tsp lime juice
1 medium avocado, pitted and peeled
1 tablespoon sour cream
Ground black pepper
Heat the oven to 400°F. Place 20 (1/2-inch) slices, cut-side down, onto 2 baking sheets. Sprinkle with the cheese and cilantro. Bake for 5 minutes or until golden brown. Let cool on the baking sheets on wire racks for 10 minutes.
Stir the chicken, beans, onion, red pepper, jalapeño pepper, cumin and 1 teaspoon lime juice in a medium bowl.
Mash the avocado in another medium bowl. Stir in the sour cream and remaining lime juice. Season with the black pepper.
Top each slices with about 2 teaspoons avocado mixture and 1 tablespoon bean mixture. Top with additional fresh cilantro, if desired.
There are lots more
easy and cheap recipes
posted here at
Frugal Follies
.
Click here for the list
!
Got a great frugal recipe? Link below to your actual post, not your main page. Please only link up recipes and other food-related posts. I'd appreciate it if you would link back to
Frugal Food Thursday
as well! If you have a linkup party that you'd like me to know about, please leave a comment below.
Want to find more places to link up your recipe or to find more great recipes? Please go to my
Linkup Parties
list and scroll down to Food Linkups. There are lots of great recipes on each blog and I'm sure you'll find some new favorites!
(This post may contain affiliate links. Please see my disclosure policy for more information.)