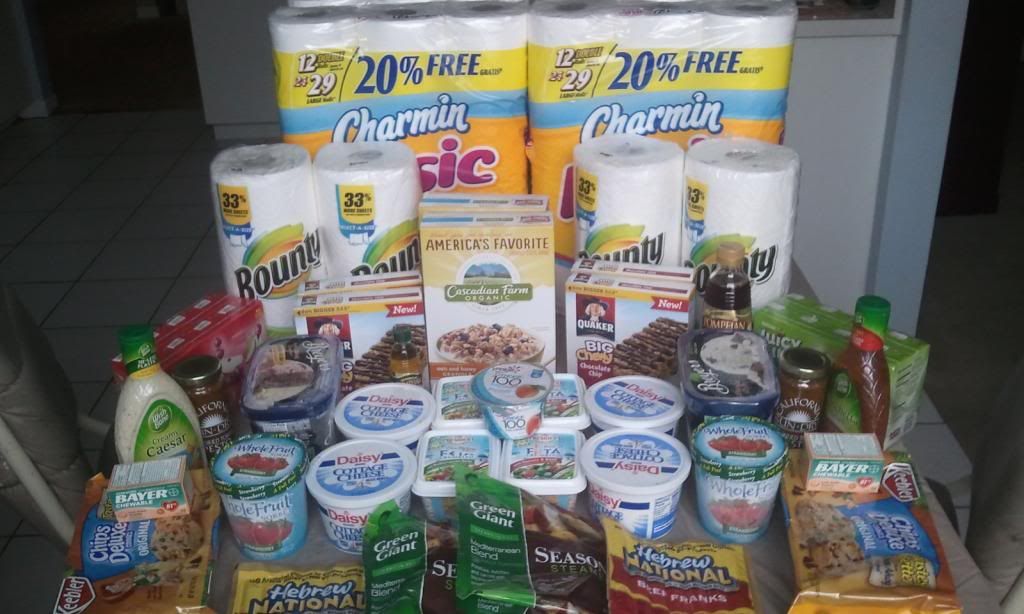 Wow, what a great shopping week at Publix with the Running Out? Run In sales and rebate! I think this is the most I've purchased since the Italian Days sales.
And I saved over $100! Three figures, woohoo!
I did have a total of over $60, though. But I got a lot of great things - several months' worth of toilet paper, plenty of snacks, frozen items, and dairy. And I paid for all of these items with Publix gift cards that I've received for running Publix gift card giveaways -
click here to enter for a chance to win a $25 Publix gift card
- so all of this cost me nothing out of pocket!
For budgeting purposes, though, I'll still add the cost to my weekly spending.
Here's all the great things I got:
2 Whole Fruit sorbet @ BOGO $3.19
- 2
$0.50/1 Whole Fruit Fruit Bars printable
= $2.19 for two, or $1.10 each
1 Pompeian garlic-infused red wine vinegar @ $1.99
-
Save 50¢ on any one (1) size or variety of Pompeian® Vinegar 16 FL. OZ. or larger
= $1.49
1 Pompeian extra-virgin olive oil, 4 oz, @ $1.99
-
$1/1 Pompeian Olive Oil or OlivExtra Plus printable
(no minimum size listed)
= 99¢
2 Breyer's ice cream @ BOGO $4.99
- 2
$1/1 Breyer's Product @Publix printable
= $2.99 for two, or $1.50 each
2 Hebrew National beef franks @ BOGO $4.99
= $2.50 each
2 Green Giant Seasoned Steamers @ BOGO $2.59
- 2
$1/1 Green Giant Seasoned Steamers printable
= 59¢ for two, or 30¢ each
4 President Feta @ BOGO $5.39 = $10.78
- 2
$2/2 President cheese printable
= $6.78 for four, or $1.70 each
1 Yoplait 100 Greek yogurt @ $1.00
- FREE Yoplait 100 Greek yogurt coupon
= FREE
(This is for an upcoming Yoplait/Publix giveaway - be on the lookout for it!)
4 Daisy cottage cheese @ BOGO $2.50 = $5.00
- 4 $0.50/1 Daisy Cottage Cheese, exp. 6/1/13 (SS 03/10/13 R)
= $3.00 for four, or 75¢ each
2 Bayer aspiring @ $1.99 = $3.98
- 2 $1/1 Bayer Aspirin Product, exp. 6/30/13 (SS 03/17/13)
= $1.98 for two, or 99¢ each
2 Keebler Chips Deluxe cookies @ BOGO $3.49
- 2
$0.70/1 Kellogg's®, Keebler® and/or Cheez-It® product
= $2.09 for two, or $1.05 each
4 Quaker Big Chewy granola bars @ BOGO $2.89 = $5.78
- 4
$0.75/1 Quaker Big Chewy, Chewy Yogurt Granola Bars or Soft Baked Bars, exp. 5/18/13 (RP 04/14/13 R)
= $2.78 for four, or 70¢ each
California Sun-Dry tomato pesto @ BOGO $3.99
= $2.00 each
2 Juicy Juice 8-pk @ BOGO $3.15
- 2
$0.50/1 Juicy Juice Product printable
= $2.15 for two, or $1.08 each
Running Out? Run In rebate deal:
2 Cascadian Farm granola @ $2.50 = $5.00
- 2 $1/1 Cascadian Farm Product printable
= $3.00 for two, or $1.50 each

4 Bounty single roll paper towels @ 3/$4.00 = $5.34
- 4 $0.25/1 Bounty Towels or Napkins, exp. 6/30/13 (P&G 05/12/13)
- 2 $1/2 Bounty Towels (Publix Running Out Run In Coupon Sheet)
= $2.34 for four, or 59¢ each

4 Charmin 12-roll bathroom tissue @ $4.99 = $19.96
- 1 $1.00/1 Charmin Publix manufacturer's e-coupon
- 3 $0.25/1 Charmin Product, exp. 5/31/13 (P&G 04/28/13)
- 2 $1/2 Charmin or Charmin Basic, exp. 5/26/13 (Publix Running Out Run In Coupon Sheet)
= $16.21 for four, or $4.05 each

Total product before coupons (not including tax): $30.30
Total out of pocket: $21.55
Rebate: $10.00
Total cost of products after coupons and rebate: $11.55
Tax: $1.71
Total bill: $61.12 (actually paid 0 due to gift cards)
Total saved compared to Publix full prices:
$100.02
(This post may contain affiliate links. Please see my disclosure policy for more information.)