This is a Sponsored post written by me on behalf of
No nonsense
. All opinions are 100% mine.
I am not a fashionista. In fact, I'm probably the last blogger to be writing a fashion post.
But I was recently asked to try out
No nonsense tights and leggings
- and I have to say that I really like them!
The thing I love about No nonsense is that their products are a frugal addition to anyone's wardrobe. It's fun and easy to combine a pair with your existing clothes to come up with a new look. No need to purchase a brand-new outfit - just get a pair of tights or leggings and you have another outfit. And, best of all, No nonsense products are sold at grocery and drug stores. Yes, you can use CVS Extra Care Bucks or Walgreens Register Rewards to add free items to your wardrobe! (They're also available at national chain stores.)
I received two items: Dark Denim leggings and Deep Burgundy tights. I really like the denim leggings are great to put on when I don't feel like dressing up. Just a big shirt and the leggings and I'm ready for hanging around the house, yet I'll be fine if I have to go out later. I haven't had the chance to wear the Deep Burgundy tights yet, but they go with a sweater I already have, so I can't wait to combine the two items for one great outfit.
Here are a couple of outfits I designed online to go with the Dark Denim leggings and Deep Burgundy tights that I received. As you can see, my fashion style is super simple! I definitely could see myself in either of these outfits.
Dark Denim Leggings:
Deep Burgundy tights: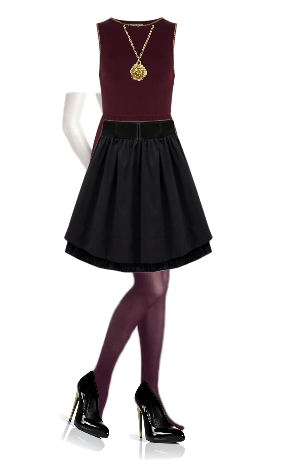 And here's some interesting news: Jill Martin, the Emmy Award-winning TV personality and co-author of the New York Times bestselling style guide "I Have Nothing to Wear!" and the New York Correspondent for Access Hollywood, is now teaming up with No nonsense for brand modernization and new product launches. I'm sure she'll have lots of good ideas to bring affordable fashion to us! Here's a video of Jill Martin discussing No nonsense:
Want to try No nonsense? Check your local grocery and drug stores or national chain stores. Stop by
their website
to see all of the colors and styles of tights and leggings that they have - you'll definitely find the ones right for you! Or become a fan of
No nonsense on Facebook
or
follow on Twitter
.