This is a Sponsored post written by me on behalf of
POWOW Messenger
. All opinions are 100% mine.
I'm not big on text messaging - generally I only send texts to my husband when he's stuck in a meeting, or I text with my daughter to pick her up after a school club or event. But I know a lot of you are big texters, so I wanted to share a new texting app for Android that I just discovered:
POWOW Messenger for Android
.
POWOW Messenger for Android is the only text messenger that lets you include anyone on any mobile phone in your circles of friends and family, team, coworkers and neighbors.
Downloading POWOW was easy - just get it from the Android Market. (Don't spell it POWWOW - I couldn't find it that way.) Install the program, and then it will import all of your saved text messages. Here's mine - you can see I get a lot of junk texts, what a pain!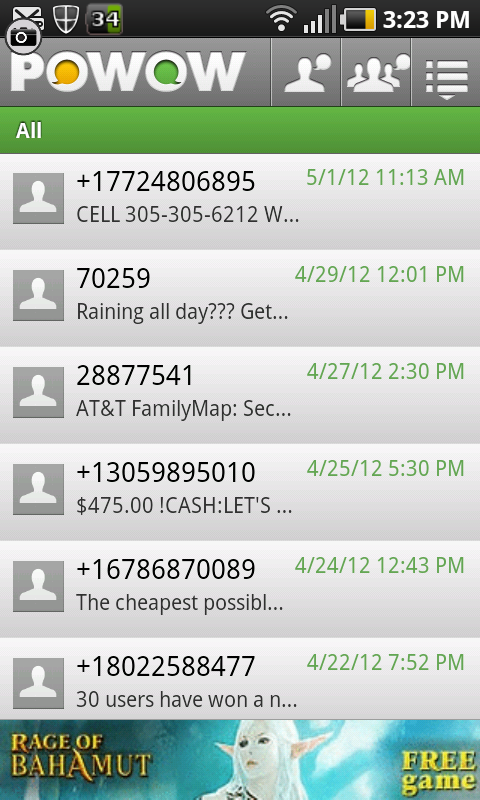 Here are some benefits of using POWOW:
Group messaging with true reply-all for everyone in the group
Single place for all one-to-one and group messages, replacing the need for 2 apps to do both
ZipIT: Blacklist unwanted texters so you don't see notifications or messages; Mute notifications so you don't see notifications but still receive messages
I tried it out by making a group for my husband, my oldest daughter, and myself. I called it Family. Now I can send texts to both of them by texting to just one number.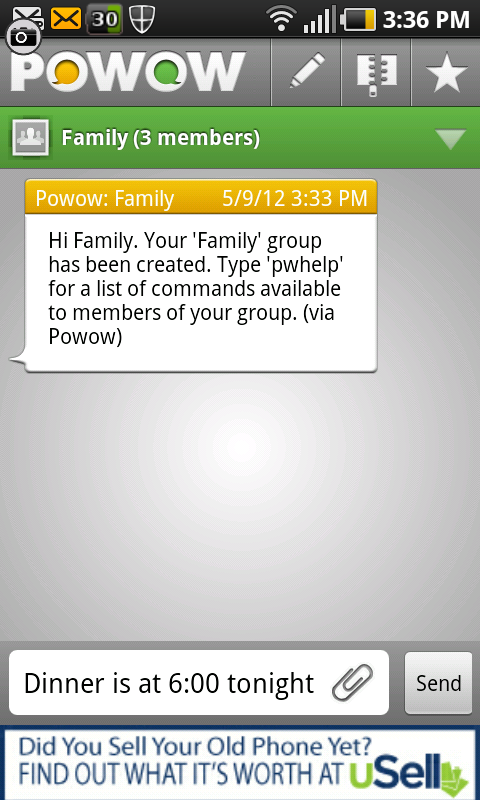 Now sending to two people the usual way is really no big deal, but what if you have lots of people in lots of different groups? Use POWOW to define groups, then easily send texts to your groups by just sending to one number. Super easy!
So if you text lots of people regularly, and if you have an Android phone, try downloading
POWOW Messenger for Android
!